Top Ten Terrible Turnoffs for Speakers
Buffer
Recently, I spoke with Sue Gaulke, founder of Speakers Training Camp, who has been surveying audiences regarding the things that bug them most about speakers. The first and fourth are directly voice-related, and several others can easily be linked to a lack of intention and a lack of alignment with content. I asked her to share her results with us, and this is what she had to say. Do you agree with her audiences?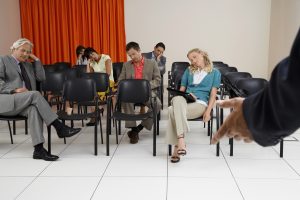 Wouldn't it be great if you could read the minds of the people in your audience?
What do they really like about presenters and what really turns them off?
I've asked these questions of thousands of audiences throughout the world as I was gathering research for my book, 101 Ways to Captivate a Business Audience. Although this research is ongoing and has been conducted for over 25 years, I have created a list of the Top Ten Terrible Turn-offs for Presenters. The #1 turn-off really surprised me (I thought it would be reading a presentation).
Here they are, starting with the worst:
Monotone voice
Reading a presentation
Boring or uninteresting material
Vocal garbage: "and-um", "um" "well….uh"….
Lack of preparation: being disorganized, rambling, becoming sidetracked
Nervous habits: fidgeting, swaying, annoying body language
Speaking too long and going over time
Repeating, repeating, repeating
Not making eye contact
Not relating to the audience, no involvement, not tuned in to the audience's needs
As you can see, the voice is a critical part of presentation success. Besides a monotone voice ranking as number one, vocal garbage comes in at number four. Audiences really dislike when a presenter stuffs the sentences with meaningless utterances. I've even heard people a cough, snort, and clear their throats instead of saying "uh". Yikes! Often, these people don't even realize what they are doing until they see and hear themselves on videotape. And then, for many people, it is really difficult to overcome. Silence is a much better choice than vocal garbage.
My audiences have given us some very important information. The next time you prepare to give a presentation, take a look at this list. Remember that your audience wants your voice to be energetic and your sentences garbage-free. Keep this in mind and you will be well on your way to dazzling your listeners.

Sue Gaulke is CEO of Successworks , a presentation skills training company. For over 25 years she has provided the popular SpeakersTrainingCamp® workshops for Fortune 500 companies, government agencies, and associations. In 2007 she began training and licensing Certified SpeakersTrainingCamp® instructors, and now has trainers located worldwide. Prior to starting her own company, Sue was Director of Motivation Programs for General Dynamics.
Vocal Impact's Facebook Page


Promote Your Page Too
ID 33887527 © Photographerlondon | Dreamstime.com