How to Create a Strong Voice, Part 2: Envision
Buffer
You can't just increase the volume to create power in a voice. You must have a strong vocal physique and a voice that reverberates and this should be combined with intention and practice. This approach reaps rewards. That's why my techie clients have given it an acronym … the REAP approach to a strong voice. REAP stands for Resonate, Envision, Align, and Practice. This series takes you through all four steps.
A meeting without a vision
Not long ago, I sat in a meeting observing a new client. He was very quiet, which isn't particularly useful when you are hired to evaluate how someone speaks! Eventually, he spoke up, but it was hard to follow what he said, and at the end of an hour the meeting was adjourned without having progressed much except to have a discussion, with no action items or prescribed follow up. After the meeting, I asked my client what he had hoped to accomplish in the meeting. He said, "Well, we were just meeting to talk about this project." Which is exactly what they did.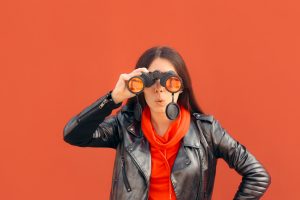 The answer: Envision
In corporations, people go from one meeting to the next and often have meetings to discuss meetings. It's frustrating, and though there may be people trying to change that, for most meetings are the norm. However, meetings can be improved by envisioning what you hope to accomplish in the meeting and working toward that.
Envisioning what you want to accomplish is also the foundation of a strong voice. Envision who you are, how you want to be perceived and how you want to motivate, inspire or otherwise affect others. In both yoga and acting, this envisioning is called "setting your intention." When you are clear in your self-assessment, your voice will be strong because you will know what to say and how to say it.
Luck is where intention meets opportunity.
The definition of intention is "An aim that guides action." Your communication is always filtered through your intention, whether you know it or not. If your intention is clear, your communication will be strong. If your intention is fuzzy, your voice will be weak. This is also the strength behind many successful people. In an article on LinkedIn from February 2013, by Peter Guber says, "I find the most "lucky" people in business are the ones who first start with a clear intention of what they want. They can articulate it, describe it, feel it, and make it absolutely real. In a sense, they visualize it already done, and are pulled towards it as their goal."
Notice that intention is not the same as a goal, but it is the aim that moves you toward your goal. The attitude. The aspiration. Is it the same as purpose? I don't think so, but it can help you reinforce your purpose. Meditation guru Sharon Salzberg says, "Each decision we make, each action we take, is born out of an intention."
Envision your intention and your brand will follow.
As you work with intention, you will find that you begin to define what is important to you, and who you are. This definition can be called your brand…the unique combination that you have to offer the world. It is a mixture of your values, what drives you and how you want to be perceived by others.
You also begin to see how you sabotage yourself and your conversations and meetings when you are not clear. When you have no aim to guide your action you are like the main character in The Life of Pi – you may have an amazing journey but you may never get where you actually want to go.
How do you Envision?
To envision, I believe in setting a guiding intention for my work, even for my life, and then setting an intention for each important conversation, talk, or performance. Here's how:
Be honest with yourself
What is the aim that guides your action? What do you want to accomplish?
What are your strengths that you can use to accomplish your goal?
How do you want to affect others?
Create a statement of intention for yourself that answers the questions above.
Here's a very clear statement of intention by one of the world's great photographers: "It is my intention to present – through the medium of photography – intuitive observations of the natural world which may have meaning to the spectators." Ansel Adams
Create one for each conversation and meeting you have.
Here's an example of a statement of intention for someone who wants to inform, and influence others to put closure on a plan: "I respectfully educate my colleagues and guide them to reach decisions that are beneficial to all."
The last word on Envision
You have a unique perspective and personality to bring to whatever you do. You have a voice that is unlike any other, both a physical one and a "voice" as an authentic presence in the world. To have a strong voice, you bring that authentic, unique, clear voice to the table through envisioning an authentic, unique and clear intention.
More reading on intention:
I deeply admire the work of Dennis Rivers in this area and encourage you to download a free copy of his Cooperative Communication Skills Workbook for an in-depth look at understanding and setting an intention.
Connect with us on LinkedIn
Connect with the author on LinkedIn