From Information to Imagination: Delivering a Good Story
Buffer
"The highest-paid person in the first half of the next century will be the 'storyteller.' The value of products will depend on the story they tell. Nike and many other global companies are already mainly storytellers. That is where the money is — even today."
– Rolf Jensen, futurist and author of The Dream Society
I read that quote when Jensen's book first came out in 1999. As an artist, it captured my attention and called to me to consider a shift from information to the imagination. Storytelling is a form of communication that is common to everyone's experience, but Jensen's book showed me how it is becoming increasingly important as we face the large amounts of information that are now available to us. And I thought, "That's good news for theater folk!"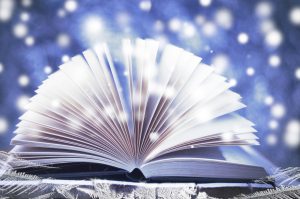 Today, stories can be useful in many different ways. They can be useful to plant seeds as in a Springboard Story. They reflect who we are and what's important to us. I use stories to introduce concepts or to clarify points in my presentations. I also use them to entertain. My stories help you understand what I'm saying, but creating stories out of raw information can also help you see a problem or situation better in order to understand the solution better. Sometimes the data is overwhelming, but the story behind the spreadsheet can be illuminating. For more on the many applications of storytelling, please visit A Storied Career, Kathy Hansen's wonderful blog on modern and post modern forms/uses of storytelling.
How to craft a story:
Not all stories are created equal. A good story is indeed powerful, but what many people call stories are not complete. They are just reports or facts. Many are just set ups for the real story. So what makes a good story good and also useful?
Get the whole story
Evoke an emotional response
Deliver it well
Get the whole story:
A good story has some specific story components. They are:
Setting: Time, location, description of surroundings, anything that puts the story somewhere at sometime.
Cast of characters: Who are the people involved either individuals or groups? What are their interests, desires, motivation, needs, etc. How are they related to each other? What do they have in common? What makes them different?
Objective storyline: What's going on at the time the story takes place? How is the stage set for the obstacle?
The Obstacle: Every good story has an obstacle or something to be overcome. What is it? What happened to create the conflict? How do the characters feel about it and react to it or do they? Where's the pain?
The Resolution or Solution: How was/is the obstacle resolved? What happened to answer the challenge? How was the conflict derailed?
The conclusion: What is the end result? Was there a lesson learned?
The sequel: Hollywood makes a mint from these. In business, maybe you will too. Keep the relationship alive and the story growing. There are always new challenges and solutions.
You can find many storytelling processes and approaches online, and I encourage you to explore. I've found that if I get the story elements above, I usually have what I need.
Evoke an emotional response:
A good story evokes an emotional response in the teller and in the listener. Emotion is important for the storyteller because emotions can be heard in the voice and because emotion and memory are connected. Emotions are heard in the voice through changes in the muscles, the breath, and the brain which in turn affect the pitch, cadence, and inflection of the voice. Coupled with the ability for the voice to show emotion is the ability for the listener 's ear to pick up minute differences in the sound the voice produces. The ear can perceive 1400 different pitches and 280 different levels of volume for each pitch it can hear! A storyteller who feels the emotions in their story will automatically create color in their voice. People will remember you and what you said far better if you are expressive. Find emotions in your story by answering questions such as the following: What was sad? What was difficult and how did it feel? What made the characters joyful? What were they inspired to say or do? What physical sensations did they feel when they discovered the obstacle? Even if it's a story behind a spreadsheet, it is most likely a story about humans. Humans have feelings. Find them and talk about them.
Deliver it well:
Storytelling is powerful regardless of the delivery medium. There are digital stories and life stories, films, videos and even Twitter stories. And if you think 140 characters can't be much of a story, check out Smith Mag's Memoirs! If you get the story right, you can use a simple Flip camera to deliver a great story or tell one at the dinner table.
And you don't need to reveal story components in any particular order. Typically, it's safe to start with the setting and go down my list from there. However, the film "Crash" is an example of how a story can be good even if you mix up the components in delivery. What matters is the alignment of your story and intention with your delivery. To discover intention, ask: Who is the audience? Why are you telling the story? What do you hope to get in the way of a response or action? Why should anyone care?
Summary:
By collecting specific information to create stories, you can assure yourself that you can answer the key issues that need to be addressed to qualify your lead, or find the best solution, or create the most interest. By using emotions in your story you will grab your audience and have more impact. And finally, your alignment of your story with your intention and your delivery will ensure that everyone gets the most from the story you have crafted.
Related Posts:
Connect with us on LinkedIn
Connect with the author on LinkedIn
ID 61703450 © Marcin Wos | Dreamstime.com