Want to Find Your Voice as a Speaker? You May Need Some 'Tough Love'!
Buffer
Do you have something important to share with an audience? If so, you may be excited about the opportunity. Chances are getting your content together hasn't been difficult either. So now it's time to give your talk. You look out at the audience . . . and suddenly you're incredibly aware that everyone is looking at you and expecting some wisdom!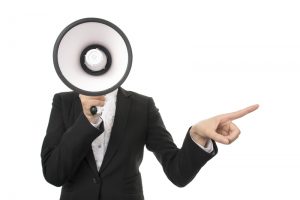 When Speaking Fear Enters the Room
Now is when it really comes home to you that you have fear of public speaking—or at least significant nervousness. Self-consciousness, the sense of exposure, and sometimes the thought that people are judging you, all play a part in diminishing what should be an enjoyable experience for all concerned. If this is the case with you, you need a way to put yourself in the right frame of mind before you feel naked and vulnerable. After all, the pats on the back you've always received about how much you know won't help now. It's time to get tough with yourself.
Getting in the Right Frame of Mind
Fear of public speaking is doubly challenging: It not only makes us miserable; but it also keeps us from being audience-centered — the mark of a successful speaker. That's because the temptation is to focus on our own discomfort rather than what our listeners need to hear. Part of the solution is to understand that you're practicing behavior that's undermining your success. That behavior is indulging in narcissism.
Tough Love for Public Speaking
Narcissism in this sense may not be intentionally putting yourself at the center of the universe; but if you're overly concerned with yourself instead of your audience, it amounts to the same thing. If that's what's happening with you, here are four "tough love messages" that should help you overcome your extreme self-consciousness while speaking:
You Need to Turn Your Attention Away from Yourself. You're to be congratulated if you deliver presentations even when you're anxious about it. Still, if you're thinking about how you're doing while presenting, you need to start putting your audience first instead. After all, they're the reason you're in the room delivering your message!
Your Presentation Isn't about You. Your audience is there to get something useful from your talk, not to be focusing on you. So instead of all that self-regard, shouldn't you be asking yourself if you're giving listeners something valuable?
Listeners Aren't Paying Much Attention to You. Even though this may be hard to hear, the truth is people are much more concerned with themselves than they are with you. The odds are very good, in fact, that they're not paying much attention to how you look or sound (unless your delivery skills are very poor or your behavior is interfering with your message). This is actually good news for you as the presenter!
Just Do Your Job. Finally, you need to simply do your job in giving this speech or presentation. Either you're being paid to do that, or receiving recognition as a speaker. So please just do what's expected of you!
Not everyone leaps at the chance to speak in front of a group. Some of us are even reluctant to do so, especially when we think that the stakes are high.
Still, most of us probably recognize the value of doing so. Often, we'll give people the valuable information they need. We may even change their lives for the better. To do either of those things, we need to speak in our own voice. Getting tough with ourselves may be just what we need to be able to do so.
---

This post was written by Gary Genard, Ph.D., who is founder and president of Boston-based The Genard Method of performance-based public speaking training. An actor and author, Dr. Genard provides worldwide coaching and skills development in executive presence, leadership, and presentation skills. He is the author of How to Give a Speech and Fearless Speaking: Beat Your Anxiety, Build Your Confidence, Change Your Life. 
Related posts and suggested further reading on stage fright

Connect with us on LinkedIn
Photo 43124597 © Ronnie Wu – Dreamstime.com