Lose the Grocery List
Buffer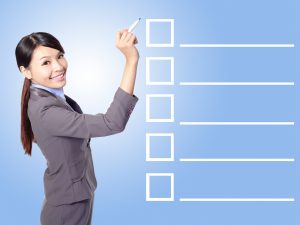 Have you ever noticed that many people treat the first part of their presentation as if it's merely a list of what you need on a camping trip? … And every statement is spoken with "up-speak?" This approach is attributed to Aristotle, minus the up-speak, who said, "Tell them what you will tell them, tell them, and tell them what you told them." However, he didn't say "bore them, and bore them again, and again."
An opening such as the one I describe is a lost opportunity and a crowd loser. People want to be drawn into your talk; they want something to look forward to.
Here are three ways to capture the opening moments in front of an audience and keep them listening:
Intrigue. Tell them what you will tell them, but don't tell them everything. Tell them the topic or the problem, or even the answer, but give them just a hint of your thoughts on the subject; use captivating language as carrots for what's coming. Make them wait to hear your brilliant ideas.
Stay strong. Make the opening as definitive and strong as the rest. Practice closing at least every third sentence with "down-speak," and resist the urge to follow a closed cadence with "and" or "so".
Tell them a good story. Stories engage us because they remind us of our own stories (and everyone likes to talk and think about himself or herself!) Stories also create pictures in our minds, visuals that make everything more memorable.
Once you've got it created, practice the opening aloud several times. You play like you practice. Your brain and ear work together to create the talk you want, and they can't do the work if you don't practice aloud.
If you'd like to know more about giving a great talk, please see my post "What you have in common with Tina Fey".
Photo 28443056 © Shao-chun Wang – Dreamstime.com