Why A Six-Pack Packs a Punch for Vocal Users
Buffer
When I tell people they need to breathe, they often look at me funny. That look says, "Of course I am breathing. I am alive, aren't I?" Even though studies have shown that singers use 75-100% vital lung capacity to sing, where speaking requires only about 60% vital lung capacity, when I train voices, I teach respiratory muscle strength training (RMST) whether they are a singer or not. This is because RMST has been shown to improve voice quality in singers as well as speech characteristics in healthy adults. Even beyond increasing vital lung capacity, involving a specific muscle in the breathing process may be the key to vocal strength, lung capacity, and vocal freedom. That muscle is the Transverse Abdominus, or TVA. It's part of the core, that six-pack you've been working on. I know. Finally a really good reason to practice voice, right?
Think of your core as the base of your voice. According to the work of Joan Melton, "When the abdominal/pelvic core is overlooked, the actor/singer works without a foundation, and activity in the upper body – shoulders, chest, neck and head – frequently attempts to compensate for a lack of awareness and use of the lower torso." In other words, if you don't use your abs to support your voice, you will strain your voice. If you find that you get tired from speaking and your throat hurts, you are probably not supporting your voice with your core.
You can work with this on your own by first locating the muscle and then working with a series of exercises to strengthen it. To do this, I've found a YouTube video that shows you how to locate the TVA and strengthen it. I like this video because he looks like a regular guy and he also knows what he's talking about. And to learn how to breathe properly once you've found the TVA, please see my post, Breathe Life Into Your Talk, which includes a link to a practice audio file.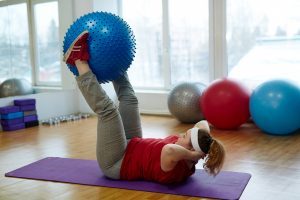 For more on this topic, please see my post, Exercise: How to Jump Start Your Voice Without Saying A Word.
Connect with us on LinkedIn
Connect with the author on LinkedIn
ID 42041018 © Petro Kladyk | Dreamstime
ID 87441359 © Dmitriy Shironosov | Dreamstime