The Voice Tells the Story
Buffer
This is a guest post by fellow blogger, Denise Graveline. Denise stepped forward with this post after learning of a medical crisis in my family. In what can be viewed as the Web 2.0 version of bringing a casserole to a friend, she shares her thoughts on the importance of the voice in storytelling. This is a lovely story, indeed, and a powerful example of the impact of vocal expression. Enjoy the post, and, Denise, thanks!! I owe you!
The Importance of Telling a Story When Presenting
You know telling stories is a good tactic to use when you're doing a presentation or a speech. Stories can expand on data points or add a personal touch, certainly. But more than that, telling stories can help speakers find meaning – tying up the threads of our experience neatly – and help our audiences get perspective on their own lives. And the sound of your voice matters in putting those personal stories across.
This week, NPR did a two-party story (here's part one and part two, with audio and transcripts) centered on Shaun Parker, who told his story as part of a speaking competition called Get Mortified. It's edgier than Ignite! or TED: Participants get up in front of a live audience to share a wince-worthy tale of their own. Producers work with the speakers to polish their presentations for Get Mortified events in Washington, D.C., Chicago, Portland, Austin, New York, San Francisco, Los Angeles, and Malmo, Sweden. (The video above is a promo of Shaun's story, and there's a full video of it in the NPR story.)
Shaun's story moves from an unrequited high school love, for whom he utterly embarrassed himself with a lip-synched love song video … to almost moving to Hollywood to pursue a dream of working in films … to putting that aside when his father became deathly ill … to using his time polishing his editing skills until he was able to finish that high school video, perfecting the synchronization … to moving, finally, to Hollywood.
It's a quest, a story of lost love, a tale of family honor, making a lot of lemonade out of lemons. The parameters are all things we can relate to: falling in love, caring for someone who's terribly ill, persisting at a personal dream.
Importance of the Voice in Storytelling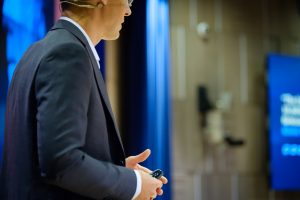 What holds it – and many stories told by speakers – together, is his voice and where it goes along with his story. That's why I'm so glad you can listen to the story, as well as watch the video. Because he's willing to "get mortified" and tell the most embarrassing part (and that video is wince-worthy), with the wry vocal tone of an older and wiser adult. The audience groans, knowing it's okay to do so. And when he builds up to finally getting ready to move to Hollywood, only to put it aside to be with his ailing father, the audience loses its voice and goes silent – because it can hear the emotion in Shaun's voice. Then he brings it full circle, using the video as a metaphor for his experience, making it a lesson; in his voice, you can hear satisfaction, hard-fought, and won … just not the way he imagined it would be.
I think speakers' voices change in quality almost reflexively when they tell personal stories, and that's what draws audiences in. It's a mix of emotion, authenticity, and intimacy that comes close to conversation with a crowd. Listening to Shaun's story, a well-rehearsed one, I felt carried along right to the end. And here's what that ending felt like, from the NPR story:
"The crowd just started cheering so loudly that you could feel the cheers sort of just shaking the whole room," Katcher says. And Parker says that moment — when he became a storyteller — changed his life. "I remember distinctly feeling if nothing else ever happens for me out here, I have that moment that I stood in front of 250 strangers and I moved them," he says.
So your voice is a force for power, and it works both ways when you tell a story: on you and on the audience. If you do it right, your audience will reward you with some vocalizing of its own.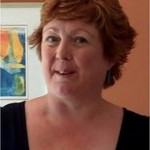 Denise Graveline was a writer and communicator whose Washington, DC-based consulting firm, Don't Get Caught, helps organizations with strategic communications plans; coaching, training, workshops and facilitation; and editorial and creative services. A former journalist and communications director for several major nonprofits and a federal agency, she was the 2002 Washington Women in Public Relations "PR Woman of the Year" and a former member of the White House Council on Women. Denise passed away in 2018 of cancer. Her blog still exists and is a rich resource for speakers, especially women.


Related posts:
Connect with us on LinkedIn
ID 103348977 © Toxawww | Dreamstime.com