Presence: You Play Like You Practice
Buffer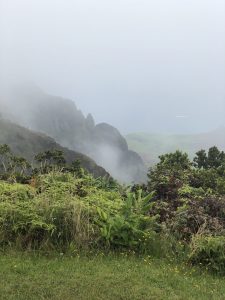 This summer I had the pleasure of looking out through the mist at the magnificent Na Pali coast on the island of Kauai. The lookout point was unusually quiet and devoid of other tourists, probably because of the rainy weather, and the vista with a veil of light fog was stunning. I had a chance to take it all in, breathe, and reflect – to be present in the beauty of the moment.
The moment didn't just happen to me; I choose over and over again to be present for a few minutes every day, (yes, sometimes with my Headspace app!) enabling me to choose to be present at a beautiful spot on a gorgeous day. Mindfulness is a result of practice.
We often address "presence" in our coaching, particularly "executive presence." I've learned that presence is not pre-ordained; it's a choice that rises out of a greater or lesser ability to show up the way we want. It takes practice. To develop "leadership presence" or "executive presence," we must become aware of our surroundings and practice empathy for the people in it. We must become aware of how we show up right down to the physical experiences of breathing and heartbeat, and practice being responsive rather than reactive. We must become aware of the choices we have regarding how we interact with our environment and the people in it. Presence is not something you are born with nor is it something that might be missing in your genetic makeup if you don't seem to have it; it's a choice.
For more on this topic, please see How to Jumpstart Your Voice Without Saying a Word
Connect with us on LinkedIn
Connect with the author on LinkedIn