5 Strategies to Make Sure They Hear You
Buffer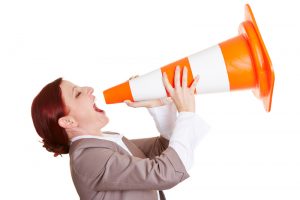 Do you have a speaking strategy that supports listening?
To be a great speaker, you need to be a great listener. Probably the most important reason for this is that if you listen, you will know what others want to hear. In a post on The Brilliant Blog, Annie Murphy-Paul cites research showing that great listeners have listening "strategies" that include such things as setting a goal for their listening, preparation by mental review of what they already know about the subject and forming an intention to listen for what's most relevant to them. Great listeners also have great focus and they don't allow themselves to daydream. OR, if they do, they bring themselves back, no matter how hard it is to follow the speaker.
I have learned that what speakers want most is to be heard.  They want that more than to talk like TED. Therefore, you speakers might consider a speaking strategy for supporting good listening in order to make it more likely that you will be heard.
Here's how to be heard:
Tell your audience your intention up front.
Encourage a little dialog and discuss what people already know about your topic.
Tell them what to listen for and use stories. Every story we hear reminds us of our own and helps us filter our own "care-about's."
Keep them focused by creating content that is delivered in chunks and ask for feedback or questions after each chunk.
Summarize the most important points at the end, accompanied by an emotional component. Emotion and memory are linked in the brain.
For more on this topic, please see my post, Dialog vs. Divalog.
Please continue the conversation with me on Twitter and Facebook.
Photo 30282626 © Robert Kneschke – Dreamstime.com